We are just starting out and therefore we do not get a lot of traffic on this blog...YET! Both of us (Elizabeth and Christi) and hard workers with a passion for what we are blogging about. We know we don't have many followers now, but we are putting in a lot a time and effort to grow this blog.
We would love to swap buttons with you! Here's the deal. You put our button on your page and in return we will put your button on our page. Simple as that! If you are interested in doing any giveaway, guest post, or anything else just let us know! We would love to accommodate any of that.
If you are interested in button swapping just send us your html code at inspiremetheblog@gmail.com
We would prefer buttons to be at least (but not larger) that 250 pixels wide. Once you have emailed us your html code just grab one of our buttons and post it on your blog.
Thank you for your interest!
200x100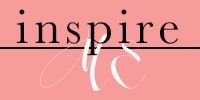 200x200
180x100